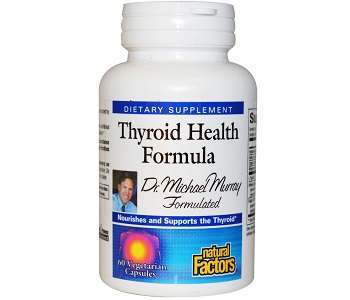 User Ratings (

0

Votes)

0
There are many supplements that contain a large mixture of herbs and other nutrients claiming to help with an underactive thyroid condition. Many of the herbs may help improve a lot of the symptoms associated with hypothyroidism, including a healthy weight, balanced mood, body temperature, higher energy levels, digestion and more. In this review, we will examine the formula by Natural Factors called Thyroid Health Formula and see exactly what goes into this product. It is important when choosing a thyroid supplement to know about the company and what their customers are saying about them.
Ingredients
This product contains Pantothenic Acid, Iodine, Selenium, Copper, Manganese, L-Tyrosine, Ashwagandha, Withanolides, Guggul Extract. The manufacturer states that Pantothenic acid is essential for energy production. These ingredients are pretty standard in thyroid supplements, except that there are many other essential herbs missing from this formula such as Bladderwrack, schizandra, and kelp.
Dosage
The recommended dosage is two capsules taken 1-2 times per day. The bottle contains 60 capsules and will last about one month.
Price
You can buy this product online from different retailers such as Amazon. The cost of this supplement on Amazon is $12.14. We did not see any option to buy in bulk which is a disappointment for a product that will be taken long-term.
Guarantee & Feedback
There was no return or refund policy on the manufacturer's website. There was also no return policy on Amazon. If you are not happy with the product there does not seem to be any way you will be able to get a refund.
The reviews we found for this product on Amazon were very mixed.
Our Conclusive Review About Natural Factors Thyroid Health Formula
Natural Factors Thyroid Health Formula only uses natural ingredients in their supplement. To their credit, the ingredients are GMO-free and are locally grown. Their formulation is supposed to be a replacement for taking a synthetic thyroid medication and it may help improve hypothyroid symptoms such as low energy, weight gain, and mood swings. There were a couple of concerns regarding this product. The ingredients are a very standard mix of herbal remedies for thyroid health, however, the level of Ashwagandha is very low in comparison to other products. Ashwagandha is one of the most famous ayurvedic herbs known for balancing thyroid hormones. Also, they do not include herbs like Bladderwrack, schizandra, and kelp. Additionally, we could not find any return policy or way to contact the company. This is worrisome because if you are unsatisfied with the product there is no way to return it and get your money back. Finally, having read hundreds of verified purchase reviews, we have found that customers report very mixed results when using this supplement.
Bringing you top reviews and product analysis - Consumer Advisors.