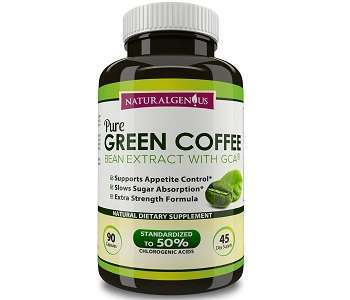 User Ratings (

0

Votes)

0
This is a review of Natural Genius Pure Green Coffee Bean Extract With GCA. This product is one of the many green coffee bean supplements available on the market claiming to help people lose weight. This product claims to be an all-natural supplement helping people reduce fat, lose weight and suppress appetite without the need for strict diets and exercise regimes. However, the manufacturer also mentions that diet and exercise are important factors for effective weight loss. The manufacturer states that this is a proven blend that is backed by two clinical studies and that the product is simple and easy to take. The product also claims to be third-party tested and manufactured in a facility that is FDA registered and GMP certified. This product claims to work well for both men and women.
Ingredients
According to the product's label, each capsule contains 800mg of green coffee bean extract from the Coffee Arabica plant and is standardized to contain 50% chlorogenic acid. Green coffee beans are unroasted coffee beans. When roasting the coffee beans for the coffee that you drink, most of the chlorogenic acid is destroyed. Chlorogenic acid is the compound found in coffee beans that give them their weight loss and antioxidant properties.
Dosage
It is recommended to take one capsule, twice a day, preferably 20-30 minutes before a meal with a full glass of water.
Possible Side Effects
The manufacturer states that this product is all natural and so there should be no side effects. However, they do warn that this product contains caffeine. It is advised for pregnant women, nursing moms, those on any medications, or anyone with a health condition or heart condition to consult their doctor before taking this supplement.
Price
The manufacturer offers various packages when buying online from the manufacturer's website. One bottle provides you with a 45-day supply and will cost $39.98. This is marked down from $64.98. You can buy a 90-day supply for $72.93, and an 180-day supply for $133.88.
Guarantee & Feedback
This product comes with a 60-day money back guarantee. Before sending the product back, you need to email customer services to get a RMA number. Only closed bottles will be given a full refund. Opened bottles will be subjected to a 25% disposal fee.
The reviews that we found on the manufacturer's website were very mixed. There were not many reviews to start with, but 25% of the reviews only gave the product a 1-star. Those giving the product a low rating said that the product did not work for them.
Our Conclusive Review About Natural Genius Pure Green Coffee Bean Extract With GCA
Overall this seems like a decent product. It contains all natural ingredients at the correct dosage. However, based on the customer reviews, this product does not actually work for everyone. This product is also quite expensive and it is unfortunate that full refunds are only given to bottles that are returned unused. There are other all-natural products available on the market that have better terms surrounding their guarantees and that are also better priced.
Bringing you top reviews and product analysis - Consumer Advisors.