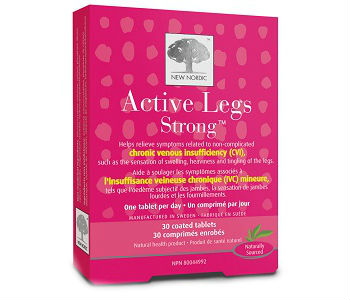 User Ratings (

0

Votes)

0
If you're looking for a treatment for your varicose veins, you've probably seen how many different products there are that promise to help. Some of them say that they'll improve circulation, some of them are for strengthening the vein walls, some treat the causes and some treat the symptoms. It can all be very confusing, and you might need some help in determining which products are worth your time and energy. New Nordic Active Legs is a varicose vein supplement that claims to promote healthy veins, and here we'll be checking to see if it actually does so that you can make an informed decision about your health.
Ingredients
New Nordic Active Legs uses these ingredients to help fight varicose veins:
Magnesium
French Maritime Pine Bark Extract
Grape Seed Extract
Microcrystalline Cellulose
Silicon Dioxide
Crosslinked Sodium Carboxymethyl Cellulose
Hydroxypropyl Methyl Cellulose
Magnesium, French Maritime Pine Bark Extract, and Grape Seed Extract are the active ingredients in this supplement, and they're used to strengthen the veins in the legs. The rest of the ingredients don't do anything for varicose veins, but they do hold the pill together.
Dosage
The manufacturer of New Nordic Active Legs suggests that adults, as well as children older than 12 years take one tablet daily with food.
Possible Side Effects
New Nordic Active Legs does not have any side effects listed, although if you do notice yourself having any bad reactions, stop treatment and call your doctor.
New Nordic Active Legs should not be taken if you are nursing or pregnant.
Price
One bottle of New Nordic Active Legs retails for $24.95. A bottle contains 30 capsules, so it should last you around a month. This is around the middle range of prices for varicose vein treatments.
Guarantee
The makers of New Nordic Active Legs has a 30-day return policy for an unopened product, so if you buy and change your mind, you can return it for a refund. However, the manufacturers do not have a money-back guarantee or a return policy on open products. This means once you try the supplement you can't return it if you're not satisfied.
Conclusion Of Our New Phase Complete Menopause Support Review
New Nordic Active Legs has some good points. The price is fair for what you're getting, and the ingredients are pretty good. However, if you're pregnant or nursing, you can't take this supplement, so you might need to find another treatment for your varicose veins. Additionally, the guarantee is very limited, because you can't return the product once it's open. If you want a product that has a more customer-friendly policy, you're better off looking elsewhere, to a product from a better company.
Bringing you top reviews and product analysis - Consumer Advisors.