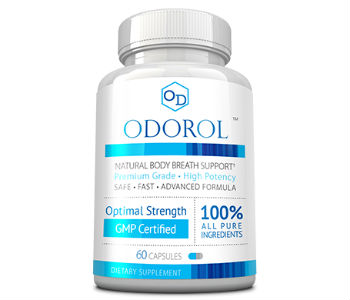 User Ratings (

0

Votes)

0
This is a review of Odorol. This product is intended to be used by those who have issues with bad breath and body odor in general. There are several people who despite cleaning and using other tactics, cannot get away from these issues. That is where this product comes in handy. For those who are looking for natural ways to stop these embarrassing problems, read on to the full review.
Ingredients
There are several ingredients in Odorol that are meant to help fight bacteria and odor. These ingredients include:
Magnolia Bark
Fennel Seed
Acidophilus
There are other ingredients in the product that are meant to help the product work well and to keep these ingredients bound together. These ingredients include:
Magnesium Stearate
Calcium Carbonate
Dosage
There are two different ways in which this product can be given to a person. The first is with an as needed dosage. For those who have odor issues every now and then, Odorol can be taken as needed. At the time you can take two to three capsules at a time for a few days until the problems go away. However, the most beneficial way to take Odorol is as a dietary supplement. In this way, you keep the ingredients in your system and do not have to worry about flare ups of odor. This method means taking one capsule twice daily. You will want to take one capsule in the morning and another in the afternoon.
Possible Side Effects
With all natural ingredients, Odorol is considered safe for people to use, if they take this as suggested. However, they do recommend that people under the age of 18, those who are pregnant or breastfeeding, as well as those who have pre-existing medical conditions, talk to a doctor before taking this supplement.
Price
Odorol is available in four different pricing packages to fit the budget of anyone out there. The first package is the Single Bottle Package that comes with just one bottle of Odorol. The total price for this is $49.95, however, you can now save 10% with their new offering of savings.
The second package is called the Starter Package. This package includes 2 bottles of Odorol. The total cost is $69.90. You are getting each bottle for $34.95, savings you around 42%.
The third package is the Intermediate Package that comes with 2 bottles of Odorol, and the company throws in 2 bottles for free. In total you are getting 4 bottles of the product, making each bottle cost $27.95 each. The total package is going to cost $111.80, which is a 53% savings.
The Best Value Package is the highest package offered, and often the best seller. This package has the buyer purchasing 3 bottles of Odorol, while the company throws in 3 bottles for free. This makes each bottle $23.30 for a package total of $139.80, saving you 61%.
Guarantee
Odorol does stand behind their product, as they do offer a 60 day money back guarantee. During the first 60 days of using this product, if you are unhappy for any reason, you can get a full refund of the product price. This does not include the shipping that you have paid. There will be no questions asked, as long as you take advantage of this guarantee during the first 60 days of using the product. You simply return all the unused and used product, and you will receive your money back.
Conclusion Of Our Approved Science Odorol Review
Body odor and bad breath are serious issues. Though they may not be medically serious, those who suffer with these issues find that it can cause a huge embarrassment in their life. That is where Odorol can help. Some of the highlights of the product:
Offers a 60 day money back guarantee, so you do not have to feel as though you are taking an uncalculated risk on a new product
Utilizes natural ingredients to make the components of Odorol
Reviews and comments are positive, with many people finding that this has helped them tremendously
Can be used as a dietary supplement or taken during odor flare ups
Overall, if you have bad breath, Odorol could be the one way to take your life back in your own hands.
Bringing you top reviews and product analysis - Consumer Advisors.