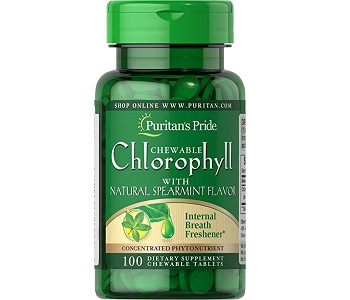 User Ratings (

0

Votes)

0
Bad breath is commonly believed to be caused by a lack of good oral hygiene and from eating sharp foods. This is a misconception because while bad oral hygiene and sharp foods can definitely worsen the issue, many times persistent bad breath is caused by an internal issue. It can also signify issues like gum disease and dehydration. The problem with common treatments like mouthwash and chewing gum is that they only tackle bad breath externally and don't get to the root of the problem. This review is going to take a closer look at Puritan's Pride Chewable Chlorophyll. This product is available in chewable tablets that have two active key ingredients, chlorophyll and mint, that are designed to tackle bad breath both externally and internally. The manufacturer claims that by taking this product,  you will experience relief from bad breath that is caused by indigestion, dentures, smoking, alcohol and sharp foods.
Ingredients
Inactive Ingredients: Sorbitol, Sucrose, Glycine, Natural Spearmint, Silica, Vegetable Stearic Acid.
The manufacturer does not disclose the amounts of the active key ingredients and does not list any additional ingredients. We were able to find the complete list of ingredients through a third-party.
Chlorophyll is the chemoprotein in green plants that gives the plant its green color. It is similar in structure to human hemoglobin but while hemoglobin contains iron, chlorophyll contains magnesium.  It is believed to remove toxins from the colon which is a common cause of body odor and bad breath. The mint in this product is designed to instantly relieve bad breath.
Dosage
The manufacturer says you can take these chewable tablets as needed.
If you are pregnant, nursing or under medical supervision, they advise you should consult with your doctor before taking this product.
Possible Side Effects
Puritan's Pride does not list any possible side effects. We were able to find through our own research that common side effects associated with taking high levels of chlorophyll include nausea and vomiting.
Price
You can buy this product on the manufacturer's website. You can only purchase in bulk. They offer a buy-one-get-two-free deal for $4.49 and a buy-two-get-four-free deal for $8.98.
Guarantee & Feedback
Puritan's Pride will only issue a return for unused bottles. You must return unused bottles within the first year from the date of purchase. There are a multitude of negative consumer reviews. Consumers claimed that the tablets turned everything they touched green. Many users also reported that they saw no relief from their bad breath after taking these tablets continuously and were frustrated that they could not get a refund because Puritan's Pride only offers money-back on unused items.
Our Conclusive Review About Puritan's Pride Chewable Chlorophyll
This product appears to be decent. It contains two active key ingredients that are believed to tackle bad breath internally and externally and they come in unique chewable tablets. However, in our research of different bad breath relief products that are currently available, we have found several products that offer significantly more ingredients that are designed to combat bad breath at the source in order to offer long-term relief. Two ingredients don't seem realistically capable of relieving bad breath in the long term which is consistent with the consumer reviews which claimed that they saw no relief from their bad breath. This product is too risky to try because the manufacturer will not issue a return on a bottle that has been opened. This means that if you try these tablets and they don't work for you, you cannot get your money back.
Bringing you top reviews and product analysis - Consumer Advisors.