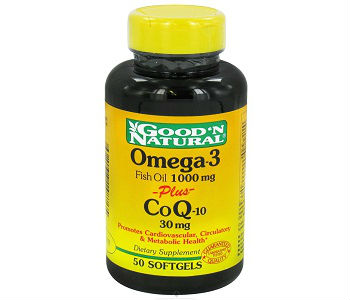 User Ratings (

0

Votes)

0
The Omega-3 Fish Oil PlusCoQ-10 is a well reputed fish oil that will supply your DHA and EPA health needs. It helps in supplementing circulatory, metabolic and heart nutrients which will keep you healthy and strong. It is quite the product for it will guarantee a long lasting supply of all your fish oil needs in the body.
Ingredients
Each pill comes loaded with the Omega-3 nutrient, 300 milligrams to be exact. Apart from that, the other ingredients are:-
Fish Oil (from mackerel, anchovies and Sardines)
Vegetable glycerin
DHA (Docosahexanoic Acid)
EPA (Elcosapentanoic Acid)
Mixed Natural Tocopherois
Soy Lecithin
Annato Color
10 calories
Rice Bran Oil
1 gram of Total Fat
Other Fatty Acids
Yellow Beeswax
10 milligrams of Cholesterol
30 milligrams of Q Sorb Co-enzyme Q-10
Tiatnium Dioxide Color
Dosage
You should take at least three pills a day so that your daily intake of EPA and DHA are covered. It is recommended that you take them after you eat. This way, you shall be able to get a more effective supply of the Omega-3 Fish Oil plusCoQ-10.
Side Effects
If you are allergic to soy or fish, then you might experience side effects. One rare but possible one is seizures, which may occur if you take too much of it.
If you are not completely sure about the product, then it is always wise to seek the advice of a health professional.
Price
It all depends on where you buy it, but the more common price you may find is in the sum of thirty five dollars and ninety nine cents. Be selective in where you buy such a product and first, before anything; do your research. Some manufacturers may not have a strong enough product that will meet your fish oil needs. Quality should always come first. After all, this is your body we're talking about.
Guarantee
There is a one eight hundred number you can call (1-800-544-0095). This is the number for Good 'n Natural. It is not clear if they offer guarantees or not, but by calling them, you shall get to know what they offer as far as their return policy is concerned.
They also have a store located in New York, which is the main headquarters for their product. The address is Good 'n Natural, 2100 Smithtown Avenue, Ronkonkoma, NY 11779. ( This is of course, if you leave in the vicinity of the area, or surrounding areas.)
Conclusion Of Our Good N' Natural Omega-3 Fish Oil Plus CoQ10 Review
It is already established that the Omega-3 Fish Oil PlusCoQ-10 is a good product. But the guarantee of this product leaves you wanting because there is no outlined returned policy.
Furthermore, there are too many types of fats in the product that could lead to more cholesterol problems, if you are already trying to combat some.
There is no backing from the FDA.  Every product has to have a legitimate backing of some kind and this institution offers that.
Bringing you top reviews and product analysis - Consumer Advisors.