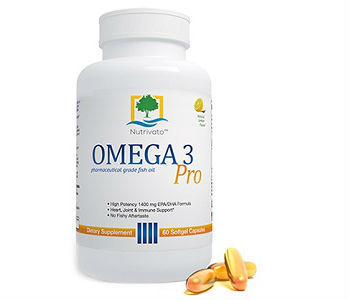 User Ratings (

0

Votes)

0
Omega 3 Pro Nutrivato is a pharmaceutical grade fish oil that is molecularly distilled to guarantee purity and freshness and there is no fish aftertaste or fishy burps. There is also highly concentrated forms or EPA (Eicosapentaenoic Acid) and DHA (Docosahexaenoic Acid) in each softgel. Omega 3 Pro Nutrivato is GMO-free. Omega 3 Pro Nutrivato is third party tested and contains no Mercury, PCBs or other toxins.
Ingredients
Omega 3 Pro Nutrivato's ingredient list includes:
1500 milligrams Omega-3 fatty acid in two softgels – Omega-3 Fatty Acids carry a boatload of health benefits that are required for overall health. Omega-3 Fatty Acids are a very beneficial group of polyunsaturated fats that have proven benefits to many areas of health including cardiovascular health, mental health behavioral health.
800 milligrams Eicosapentaenoic Acid (EPA) – Eicosapentaenoic acid is a highly polyunsaturated fat found in the flesh of cold water fish. It plays a role as an anti-inflammatory. It is used in the treatment of heart disease, blood pressure and diabetes. It also improves the health of the brain and retina.
600 milligrams Docosahexaenoic Acid (DHA) – Docosahexaenoic acid is a highly polyunsaturated fat that makes up 15% to 20% of the brain. It is important for proper brain and nervous system function. It is also important for brain, eye and heart development in infants, children and adults.
100 milligrams other Omega-3 fatty acid.
One container of Omega 3 Pro Nutrivato has sixty softgels which is a thirty day supply. Omega 3 Pro Nutrivato also provides high level concentrated fish oil that is ethyl ester or esterified form.
Dosage
The recommended dose of Omega 3 Pro Nutrivato is two softgels daily with meals or as directed by your pharmacist or healthcare professional.
 Price
 The price for a thirty day supply (sixty softgels) is $19.99.
Guarantee
Omega 3 Pro Nutrivato can be purchased on Amazon. Amazon offers a guarantee of your money back for ninety days from receipt of purchase. there is also a number to contact customer service department.
Conclusion Of Our Omega 3 Pro Nutrivato Review
Omega 3 Pro Nutrivato is reasonably priced in comparison to similar products. Anyone who purchases the product to try it out will not be taking a huge risk considering Amazon's refund guarantee. Before purchasing, it's wise to have the product's contents reviewed by your healthcare professional.
Bringing you top reviews and product analysis - Consumer Advisors.