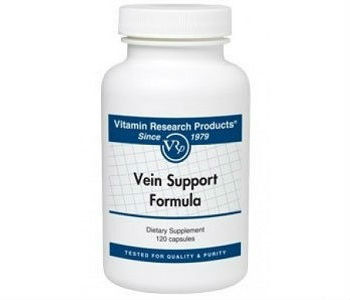 User Ratings (

0

Votes)

0
Varicose veins are a problem that many people face as they get older. As your body ages, the walls of your veins can get weaker, causing them to expand outward. When this happens, your veins become more twisted and visible on your legs, sometimes with some discomfort as well. Naturally, such a common and noticeable problem has a lot of products that are being sold to fix it, but sometimes it's hard to tell the good products from the bad ones. Here's one such supplement, Vein Support Formula by Vitamin Research Products. Let's take a closer look at it to see if this product really does what it says it will.
Ingredients
The ingredients of Vein Support Formula are listed here:
Vitamin C
Butcher's Broom
Gotu Kola
Rutin Concentrate
Hydroxypropylmethylcellulose
Most of these ingredients are for varicose veins treatment (for example, horse chestnut and butcher's broom improve circulation, and vitamin C is good for cell health), but hydroxypropylmethylcellulose is a common additive, used to keep the capsule in capsule form.
Dosage
Vitamin Research Products, the manufacturers of Vein Support Formula, recommend a dosage of two capsules two times a day.
As always, if your doctor recommends something else, you should follow their instructions, because they know your body better.
Possible Side Effects
Vein Support Formula has no side effects listed, but of course, if you notice negative health effects from taking this product, stop using it and contact your doctor.
Price
Vein Support Formula is sold at $28.45 for a 120-capsule bottle. This is on the steep side of supplements for varicose veins, considering that 120 capsules will last for around one month at the manufacturer's suggested dose.
Guarantee
Vitamin Research Products does list a money-back guarantee on their website for all of their products. Strangely, however, Vein Support Formula doesn't even seem to be listed on their website any longer. Other retailers do sell Vein Support Formula (some with potentially their own guarantees), but you should be wary of whether Vitamin Research Products will honor a guarantee for one of their products if they don't seem to sell it anymore.
Our Conclusive Review About Vitamin Research Products Vein Support Formula
Vein Support Formula by Vitamin Research Products might be a good product, but Vitamin Research Products doesn't even seem to sell it anymore, making it difficult to say whether it's worth the risk. The ingredients are all natural and each one has a clear purpose. However, the price is somewhat expensive for a month's supply compared to other supplements that we've seen, and since the manufacturers don't list Vein Support Formula on their website anymore, it's hard to tell whether they would allow you to make a refund. You're better off going with a tried and tested product.
Bringing you top reviews and product analysis - Consumer Advisors.