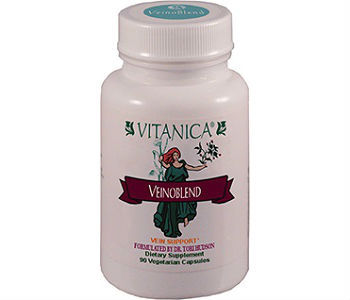 User Ratings (

0

Votes)

0
Introduction
If you're looking for a product to treat your varicose veins, it can be difficult to figure out which products are good and which are bad. Varicose veins are a result of the weakening of vein walls, usually due to age, genetics, or other health factors. When this happens, the blood that flows through the legs pushes the veins outward, causing them to become more prominent on the legs. Often times, they become more twisted as well, giving them the common name "spider veins". Varicose veins are a common affliction as people get older, and so there are a lot of products on the market that promise to help people treat them. One such product is VeinoBlend Vein Support, which contains ingredients to support vein health and circulation. Let's take a closer look at VeinoBlend Vein Support to see how good it actually is.
Ingredients
VeinoBlend Vein Support contains seven main ingredients for vein health:
Vitamin C
Bioflavenoids
Bromelain
Horse Chestnut
Grape Seed Extract
These ingredients are similar to other varicose vein products. They are primarily used to strengthen the veins, such as the vitamin C, or to promote proper circulation, like the butcher's broom and the horse chestnut.
Dosage
The manufacturers of VeinoBlend Vein Support suggest a dosage of one capsule three times a day. Of course, if your doctor recommends otherwise, you should follow their instructions.
Possible Side Effects
The makers of VeinoBlend Vein Support have not listed any side effects for the supplement, although if you do notice any adverse reactions, stop using this product and talk to your doctor.
The makers of VeinoBlend Vein Support suggests that pregnant women and women who are nursing should talk to their doctor before taking this product.
Price
One bottle of VeinoBlend Vein Support, which contains 90 capsules, retails for $23.36. This is moderately priced for a one-month supply compared to some other supplements.
Guarantee
The manufacturers of VeinoBlend Vein Support do not have a guarantee or return policy for their product. This could make some people a little wary of trying this product, because if you try it and you don't like it, there's no way for you to return it.
Conclusion Of Our VeinoBlend Vein Support Review
VeinoBlend Vein Support seems like a good product. The price and the ingredients are comparable to many other similar supplements. However, there is no money-back guarantee from the manufacturers of this product, which might make some people uncomfortable. Additionally, the makers of VeinoBlend Vein Support suggest that this product is unsafe if you are nursing or pregnant. If this is too risky for you and you would prefer a safer bet, you could try another product.
Bringing you top reviews and product analysis - Consumer Advisors.