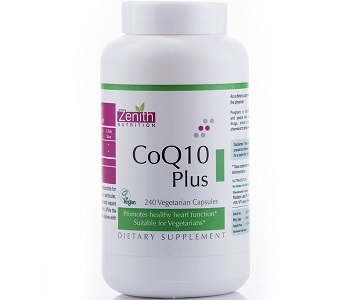 User Ratings (

0

Votes)

0
This review of Zenith Nutrition CoQ10 Plus aims to provide you with the factual and necessary information you need to know. This product is geared towards those who are looking to improve their cardiovascular health, lowering their cholesterol and regulating their blood pressure. This product is also suitable to replenish depleted levels of CoQ10 in the body whilst on statin drug treatment.
These are the facts:
Ingredients
The key ingredients in this formula are 30 mg of Coenzyme Q10 and 50 mg vitamin E. Coenzyme Q10 is naturally produced within the body in order to maintain healthy functioning organs and to produce cellular energy. Factors such as age and statin drugs cause these enzyme levels to decline. While Coenzyme Q10 may be essential for maintaining a healthy heart,  vitamin E also contributes to supporting and maintaining healthy function of the heart. We were disappointed to find that there are additional fillers in this formula such as dicalcium phosphate which offers no nutritional value and may compromise the effectiveness of the main active ingredients.
Dosage
Zenith Nutrition recommends taking one capsule a day or as directed by your healthcare provider. This dosage is significantly lower in comparison to other leading brands. This low dosage may not be potent enough to deliver any measurable results and since there are additional fillers, the product may not be effective at all. This product is not suitable for children or individuals who are pregnant, nursing or have any known medical condition.
Price
This product retails for $28.99 each online. There are 240 capsules in each bottle. This product can be purchased directly from the manufacturer or via third-party distributors. Unfortunately, we were unable to find any bulk purchase option or discounts for this product.
Guarantee & Feedback
There seems to be no satisfaction guarantee in place for this product. Returns will only be accepted if there is a fault with the product. The product would need to be shipped back to the supplier in its original condition in order to qualify for a refund. This policy is much weaker than those offered by other leading brands. We were unable to find a significant amount of feedback about this product which leads us to believe that this formula may not be very effective.
Our Conclusive Review Of Zenith Nutrition CoQ10 Plus Review
While we appreciate that this product is relatively cheap and that it is vegetarian-friendly, we have some concerns about the formula. The first concern is that the product is not pure CoQ10 because it contains additional filler and vitamin E. our second concern is that the dose is significantly lower than most leading brands which may not be enough to deliver any measurable results, in addition to that, there is not enough social proof or comments from end users to back up the manufacturers claim that this product does in fact work. Lastly, the weak returns policy leaves us with no confidence in this formula and we believe that it may be a risky purchase that could potentially cost you a few hard earned dollars.
Bringing you top reviews and product analysis - Consumer Advisors.