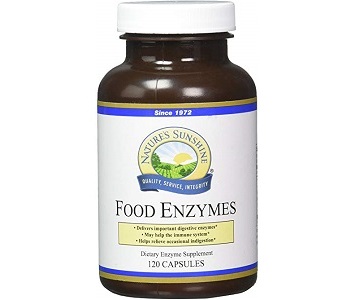 User Ratings (

0

Votes)

0
The following review is for a product called Nature's Sunshine Food Enzymes. It is a dietary supplement that is designed to help the body with the digestion of proteins, carbohydrates and fats. This then helps prevent and relieve constipation.The manufacturer claims that the combination of enzymes contained in this product offers more complete digestive support when taken with meals.
Ingredients
Betaine HCl
Bile salt
Bromelain
Lipase
Alpha
Amylase
Pancreatin
Papain
Pepsin
These enzymes help break down food into compounds for absorption into the bloodstream. To mention a few of the things that these ingredients do, Lipase is helpful when the pancreas is unable to release enough digestive enzymes into the stomach to digest food. Amylase helps break down carbohydrates and starches into sugar. Bromelain causes the body to secrete a substance that prevents pain, inflammation and ulcers. Pepsin is used for pre-digesting proteins in the stomach.
Dosage
The recommended dose is 1 to 2 capsules with a meal three times a day.
Price
This product is available on the manufacturer's website for a retail price of $29.65. You only pay $19.75 when you are a member. It may seem like it is a big discount, however, the third-party retailers' discount is even better. One of the retailers sells it for $16.95 on their website. It is not stated how long the discount promotion will last for.
Guarantee & Feedback
The manufacturer offers a 90-day money-back guarantee. During this period, you can return the product for a replacement, credit or full refund. However, it only applies if the product has not been misused, intentionally damaged or outdated.
The consumer reviews on the manufacturer's website are all good. This may seem like a good thing. However, it is important to keep in mind that the reviews on the manufacturer's website can be easily manipulated since they have full access and editing rights. The good thing is that there are also reviews on third-party retailers' websites. We advise that you read them before you make any purchase.
Our Conclusive Review About Nature's Sunshine Food Enzymes
Nature's Sunshine Food Enzymes seems to be a promising product for managing Irritable Bowel Syndrome. We like that the manufacturer explains what each ingredient is useful for.  Many other manufacturers do not do that. Moreover, the manufacturer offers a good period for the money-back guarantee.
We are concerned that the product does not have ingredients like Psyllium, Peppermint Oil, and Fennel Oil. These ingredients have been proven to be effective and they have anti-inflammatory and soothing properties. Another concern is that enzymes can come with side effects such as bloating, diarrhea and nausea, which could be worse if the product does not have soothing ingredients.
Lastly, the price of the product seems to be reasonable now that there are discounts, but it will be more expensive when it goes back to a usual price. Consider that if you plan to use this supplement for a long period.
Otherwise, we advise that you look for a product that you will afford easily throughout the time that you will be using it.
Bringing you top reviews and product analysis - Consumer Advisors.